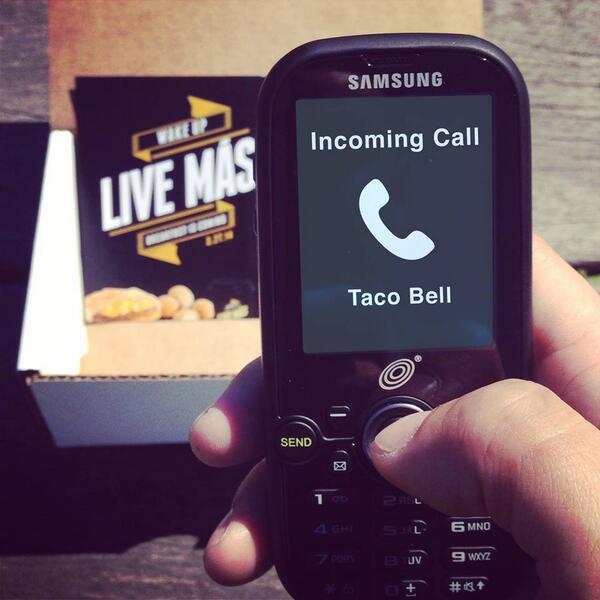 Last week, Taco Bell sent out 1,000 free burner phones to "fast food influencers," calling or texting the phones periodically with instructions to tweet about the phone, Taco Bell, or whatever other nefarious taco-related tasks they may have in store for these lucky social media mavens.
While it's not unheard of to get freebies from companies (anyone who's ever gone to a trade show is swimming in the stuff, and developers tend to get a lot of free gadgets too), it is a bit more unusual for electronics to be sent out to the public, especially through the mail, due to cost and potential loss. So, this got us thinking about other "free" electronics that have been sent out to consumers, and what they were intended to do:
upload.wikimedia.org­/wikipedia­/commons­/thumb­/e­/e0­/...
The CueCat was a barcode scanner that was intended to scan special barcodes in magazines or catalogs that would send users to a specific URL when scanned; in a way, it's a lot like how many ads and other media include QR codes now. The scanner was given out at Radio Shack stores, and even mailed out (unwanted) to subscribers of
Wired
and
Forbes
. The CueCat ultimately failed, due to cost, privacy concerns, and the fact that maybe no one really wanted to scan their bag of chips.
The Cr-48 was essentially the first Chromebook, but it was only a prototype sent out to 60,000 people for testing and feedback. Matte black and unbranded (though actually built by Inventec), the Cr-48 gave those lucky enough to receive one a taste of Google's (then) upcoming OS. Early reviews were mostly positive, but then again, when you're essentially getting a laptop for free, it's hard to complain -- especially when compared to the pricey Chromebook Pixel.
This one might be a bit of a cheat on our part -- the IKEA KNÄPPA was only available to those who attended the VIP sneak preview of IKEA's new PS line in Malmö, Sweden. The KNÄPPA was a cardboard camera boasting only 2.3 megapixels, and while it didn't take very good pictures, it was an exercise in simplicity, running on two AAA batteries. And like most IKEA products, you had to assemble it yourself.
How much do you love bacon? You might want to put that into words, because this Bacon Scent Alarm Clock is still being given out by Oscar Meyer -- you just need to pop over to their site and fill out a form to enter the giveaway. This little device plugs into the headphone jack in your iPhone and sends out a whiff of bacon when it's time for you to get up. Because nothing gets you up faster than the empty promise of cured pig meat. (
www.wakeupandsmellthebacon.com/
)
Did you have any of these? Or can you remember any other products? If so, please mention them in the comments, with a picture if possible, and what you did with it if you were one of the lucky ones.