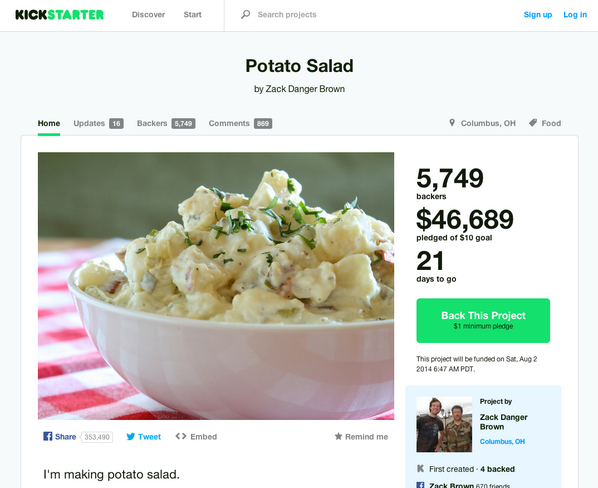 Contributor JC Fletcher breaks down the world of crowdfunding in "What you need to know about Kickstarter, Indiegogo and the concept of crowdfunding." (
aol.it­/1jjLpMF
)
We planned to run this article this week anyway, but coincidentally, you might've heard about one man's desire to make potato salad (
aol.it­/1qrUEZW
). Zack Danger Brown has become a bit of a celebrity, turning what was a small goal to make the famous side dish into a over-funded (and controversial) Kickstarter effort. Though he has a lot of chances to prove he is capable of producing that much salad, most aren't optimistic.
This story reminded me of "The Doom That Came To Atlantic City," a board game that raised $122,874 and the project creators decided to not move forward with the project due to "ego conflicts, legal issues, and technical complications." Backers were "shit out of luck" because nothing in Kickstarter's policies protected them. (more:
aol.it­/1qrUeCS
)
"Backing" something on a crowdfunding site can be risky, if you don't understand what you're getting into. It's not a "store," you're really contributing from the goodwill of your heart first and expecting a reward second. I vowed to not back another Kickstarter campaign after pledging to two gadget projects in 2012 which ended up being several months late and total failures. But then there's other efforts that truly are about goodwill, such as The Lizzie Project (
aol.it­/1s4gHtF
) a documentary that follows around an inspirational woman who I follow quite a bit on social media. I wanted to contribute to that with the reward just knowing the film was being produced and maybe I'd get to see it someday.
Now it's your turn: what crowdfunding efforts did you (or someone close to you) participate in? Share your experiences, good and bad.